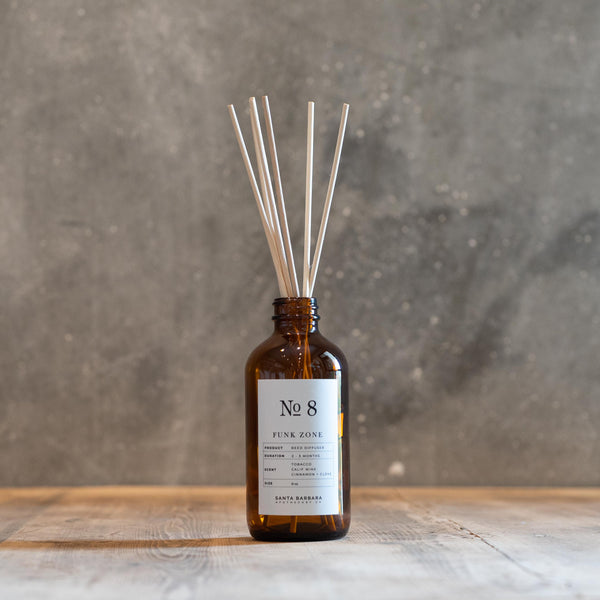 Santa Barbara's wine trail, art enclave and home to our first retail location. This eclectic part of town is home to famous restaurants, surf shops, urban wine tours and some of Santa Barbara's best breweries. The Funk Zone has a masculine scent that conjures up memories of a rustic leather club chair, an aged fine whiskey and a little Cuban Cigar. A light fruity note to brings it all together. Get funky.
Santa Barbara Apothecary Co.™ luxury Reed Diffusers are handmade in Southern California. Every scent is personally blended and hand-poured in small batches to ensure quality for a clean, beautiful scent throw with no DPG. Natural rattan reeds slowly absorb and release flameless fragrance all day. These vintage-style amber apothecary bottles are 8 ounces and generally last 2 - 3 months or longer making them a wonderful value.
Premium, Cosmetic-Grade Essential Oils & Fragrance Oils 

8 oz. Reusable Amber Apothecary Jar with Silver Lid

7 Naturally Harvested Rattan Reeds
Insert rattan reeds into the bottle. Flip reeds every 3 - 5 days, as needed, until the bottle is empty. Place your Reed Diffuser on an oil resistant, non-porous surface. Natural essential oils can be harmful to furniture surfaces if spilled.